I know what you're thinking. You're pondering your worst fear.
(Aside from death, snakes, spiders, heights, and dirty restaurants...)
Your worst fear is getting an engagement ring or wedding band that you hate. That you will be stuck with for the rest of your life.
Or on the flip side, giving her an engagement ring or wedding band that she hates. That she will hold against you for the rest of your life.
Luckily for you,
Anjolee
has the solution.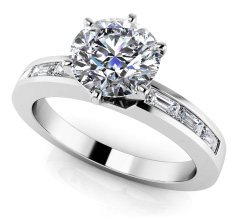 Anjolee offers a wide selection of high quality jewellery, with the best feature being that their pieces are customizable to fit your tastes. Upon choosing a design, you can then choose the details of your jewellery with different metal types, carat weight, diamond quality, and more. This way, you can specify the pieces to fit your (or her) tastes, and your budget. Seriously, nothing says "I love you and I'm a sweet romantic" like a ring designed specially for the love of your life.
Even if you're not thinkin' wedding bells in the near future, take a browse around the site- their selection might give you some ideas that you can add to your 'perfect wedding must-haves' list.
P.S. Silver/white gold band + round diamond shape. Kinda like in the first picture.